The key  to the success  of the Navy STEM Program is the active participation by regional professionals  in Navy-related agencies and industry. This, indeed, is one of the strengths of the program as the Southern New England region has a large and vibrant naval community. There are numerous ongoing activities between University of Connecticut (UConn) and University of Rhode Island (URI) and Naval Undersea Warfare Center (NUWC), General Dynamics Electric Boat, Undersea Warfighting Development Center (UWDC) Raytheon and other naval agencies and industry in the region. The program formalizes regional workforce development activities to address the urgent current demand and projected future needs. This community is taking steps to formalize research and technology transfer activities in the region, thereby, creating a national resource for Navy science and technology.
Navy STEM partners participate in a variety of ways, including membership on the Advisory Board, participation in the seminar series, providing topics for and mentoring of undergraduate research and senior design projects, attending and making presentations at the annual Discovery Day event and campus recruiting events, arranging facility tours for Navy Crew members and recruiting volunteers to serve as mentors for Navy Crew activities.
We would like to thank our 2022 Spring Semester Distinguished Seminar Speakers
Elizabeth Garypie, Director of E&T Digital Transformation
Ronald Ross, Technical Staff
Bill Matuszak, Vice President
John Evans, President
Epsilon Systems Solutions, Inc.
Karen Conti, Executive Vice President of Corporate Development and Strategy
Capt. Jeff Cares, President and CEO
Adm. Michael Connor, CEO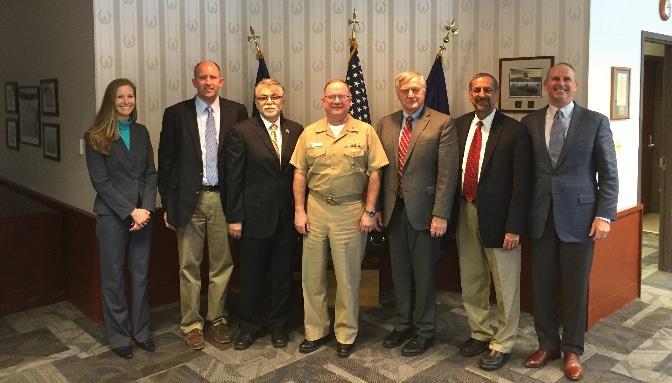 The UConn/URI team has been working with the Navy to develop lasting regional programs with significant workforce and science and technology impact. Here, UConn and URI Visit the Undersea Warfighting Development Center (UWDC) in Groton, CT - (Left to Right) Kylene Perras, Professor Rich Christenson and Dean Kazem Kazerounian (UConn); RDML James Pitts- UWDC Commander; Dean Ray Wright and Professor Arun Shukla (URI); ADM Jonathan Greener