About the Navy STEM Program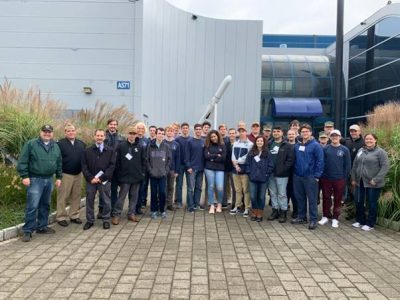 In 2017, the University of Connecticut (UConn) and the University of Rhode Island (URI) received a grant from the Office of Naval Research to create a community of students, faculty, and government and industry leaders who will strive to expand the Navy science and technology workforce in the region. Rhode Island and Connecticut represent a critical region for the U.S. Navy.
In 2021, the Department of Defense distributed a National Defense Education Program (NDEP) grant that resumed these activities after a period of inactivity due to the conclusion of the original ONR grant.
Previously, the Navy STEM students toured the USS Montpelier at the Naval Submarine Base New London. We would like to thank Commander Aluin Morales, Chief Brian Biddle and Dr. Robert Lafreniere for arranging this exciting and educational experience!
Previous and Upcoming Events
      Spring 2022
Wednesday, April 20th, Captain Jeff Cares, US Navy (ret.) - Author & CEO of Alidade, Inc
Wednesday, April 27th, Vice Admiral Mike Connor, US Navy (ret.) - President & CEO of ThayerMahan, Inc
Saturday, May 7th, University of Connecticut Undergraduate Commencement Ceremony
Sunday, May 22nd, University of Rhode Island Undergraduate Commencement Ceremony